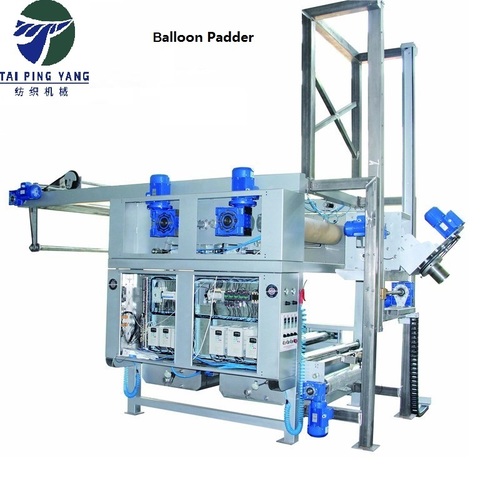 Product Description
We are a widely acclaimed exporter and manufacture of Tubular Balloon Padder, which is used in diverse sectors. This machine is convenient to operate and highly efficient to heavy load. High grade parts & components and up-to-the-minute technique are used to engineer and fabricate the balloon padder. Examined closely by expert professionals, this machine is widely recognized for its high energy efficiency, superb performance, sturdy structure and longer operational life. Besides all this, we offer this Tubular Balloon Padder to clients at competitive prices.

Application of the machine:

The offered YXRZ1600-2 series machine is suitable for successful execution of hydro-extractor process of tubular fabrics. It is considered as a good substitute of centrifugal equipment and wet expander. It has user friendly design and is known for its high performance level.

Main Technical Specification
| | |
| --- | --- |
| Working width | 1400mm |
| Machine speed | 3-45m/min(Inverter control the motor, speed is adjustable) |
| Motor power | 11.45kw |
| Applicable compressed air pressure | 0.4-0.6Mpa |
| Machine figure(LxWxH) | 5100mm x 2750mm x 2820mm |
| Machine weight | 4.5T |
| Machine capacity | Minimum 4.5 ton & Maximum 5.5 ton (Depending on Fabric GSM: 160, Fabric Width: 20" inch) |
Machine Instructure:

1. Turn table
The motor controlled turn table rotates either clockwise or anti clockwise direction depending on untwisting requirement. ( we provide detwister as optional accessory)
It also contains fabrics guide ring or fabrics open device.
The location of fabrics guide ring is modified by its lead screw which is driven by motor. This motor is regulated by push button of control panel.

2. Infeed device

Its infeed device is controlled by motor and its speed can be modified by inverter which determines this speed in each of its phase. Its web belt is used to convey the fabrics and the running adjusting system is utilized to rectify the running path of web belts. This running adjust system is fixed by a lifting device which is controlled by motor. The infeed device moves upward or downward direction during feeding of fabrics.

3. Fabrics guide device

This section is attached to fabrics guide ring so that the fabrics run in the middle section of squeeze roll. It contains 2 sets of limit switch that manage fabric tension between liquid squeezing roller and water squeezing roller and between water squeezing roller and infeed roller to safeguard cloth guiding ring.

4. Air ballooning device

This section consists of manual air spray as well as automatic ballooning system and it acts as the assistant device. Here the air spray is considered as the key ballooning device. The automatic ballooning system is managed by two single reverse valves.

5. Water squeezing device and liquid squeezing device
Both these devices contain four pieces or 2 sets of specially designed rubber roller and air cylinders. Each air cylinder is regulated by a reverse valve. Its squeezing roller starts to provide pressure when the power of this valve is on. The squeezing roller ceases from functioning when the power of this valve is off. The squeezing roller pressure is modified by two sets of reduce valves and it is attached to a three position magnetic valve with rotary switch controlling function. There are two separate motors for controlling softener expression device and water squeezing device. Both of these motors are driven by inverter and their speed can be modified in order to ensure tension free running of fabrics.

6. Tension adjust device

It is installed with a regulation resistance system in order to modify tension level between its delivery system and liquid squeezing roller.

7. Fabrics exit device
This section is operated by inverter controlled motor in order to affirm the uninterrupted functioning of this machine.

8. Heating device

This section is designed with pneumatic driven stop valve, heating pipe, reverse valve, thermo-couple and steam trap so that it can automatically maintain necessary temperature of liquid.

9. Blending jar
This section is equipped with water injection pipe and blender heating pipe. This part is instrumental for mixing blend softener and water in required amount.

10. Driving device

The entire equipment consists of 6 sets of driving motors. Among these motors, the plaiting motor, in-feed motor, softener expression motor and water squeezing motor are operated by synchronous controller. Its rotation controlling knobs helps to modify its overall speed. Apart from that, the speed of softener expression motor, feed motor water squeezing motor and plaiting motor can be controlled separately. This section also contains push button on its control panel, lift motor and control breadth motor that rotates in clockwise or anti clockwise direction.

11. Electric components:

It uses Delta inverter obtained from Taiwan and its low voltage appliance is developed by Schneider of France.

Main parts of the machine
| | | |
| --- | --- | --- |
| Inverter:Delta of taiwan 4sets | Water squeezing roller: acid base resistant rubber roller two sets | Softener expression roller: acid base resistant rubber roller two sets |
| Gear box motor: 3kw 2sets | Gear box motor: 0.75kw 4sets | Gear box motor: 1.5kw 2sets |
| Infeed web belt: 3175mmx1640mm pont of USA 2pcs(material is imported from pont and made in China) | Made in China | Pneumatic components: shanghai of China |
| Rough belt: 40x2mm | Channel steel, corner steel: 10#, 5# Ji steel | Steel plate: thickness 10, 3 shanghai Bao steel. |
| Painting(machine skin coating): Tianjin of China | Digital temperature controller: Shanghai | Low voltage electric sets(like switch, indicator, relay): Schneider of France |
| Chains: Hangzhou of China | Triangle belt: Jinan of China | Thermal couple: shanghai of China |