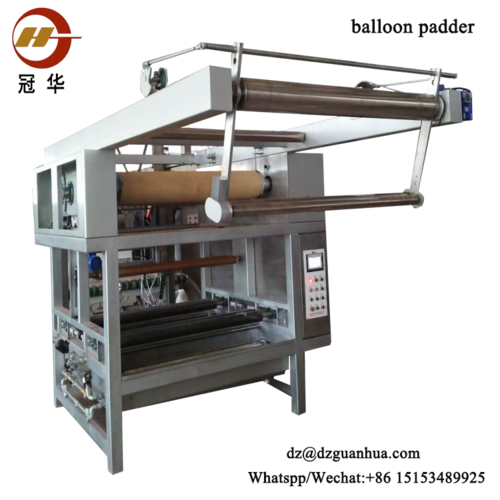 Double Balloon Padder For Cotton Fabrics
Product Description
Double Balloon Padder For Cotton Fabrics
Machine Instructure:

1. Turn table

Turn table is driven by motor, it can turn clockwise or anticlockwise according to untwist needing. (Detwister is optional)

Fabrics open device (fabrics guide ring)

Fabrics guide rings position (fabrics working breadth) is adjusted through lead screw, lead screw is driven by motor, and the motor is controlled by pushbutton in control panel.

2. Infeed device

The infeed device is driven by motor; its speed can be adjusted by inverter, which can make sure the speed in phase. The web belt transports the fabrics, set with a moving adjust system to correct web belts running path; set with a lifting device draw by motor, lift or lower the in feed device facilitated to fabrics in feed.

3. Fabrics guide device

Set with Fabrics guide ring to ensure fabrics running in the middle of squeeze roll; set with 2sets limited switch control the fabrics tension between infeed roller and water squeezing roller, water squeezing roller and liquid squeezing roller to protect cloth guiding ring.

4. Air ballooning device

This part includes hand operation air spray and automatic ballooning, the air spray is the main ballooing device. The automatic ballooning device is controlled by two pieces single reverse valve. It is the assistant device.

5. Water squeezing device and liquid squeezing device

Each device consists of 2 sets(four pieces) rubber roller made of special material and 2 sets air cylinder, each air cylinder is controlled by single reverse valve, the valve power on, the squeezing roller pressurizing; power off, squeezing roller apart. The pressure of the squeezing roller is adjusted by two sets reduce valve. Set with 3-position rotary switch control motion of magnetic valve. The water squeezing device and softener expression device are driven by one motor separately, the two motors are controlled by inverter and speed can be adjusted, which made the fabrics run in non tension situation.

6. Tension adjust device

Set with a regulation-resistance to adjust tension between liquid squeezing roller and delivery device.

7. Fabrics exit device

This device is driven by inverter controlled motor ensure synchronous running.

8. Heating device

The heating device consists of heating pipe, thermo-couple, filter, reverse valve, pneumatic driven stop valve and steam trap, it can keep liquid temperature constant automatically

9. Blending jar

It consists of blender heating pipe water injection pipe; its function is blend softener and water fully.

10. Driving device

The whole machine has 6 sets driving motors, among them in-feed motor water squeezing motor, softener expression motor and plaiting motor are droved by inverters, the inverter is controlled by synchronous controller. rotate "total adjust" knops, the overalls speed changed. Moreover the speed of feed motor water squeezing motor, softener expression motor and plaiting motor can be adjusted individually. Set with pushbutton on control panel control Breadth motor and lift motor running clockwise or anticlockwise. "start" and "stop" pushbutton control Blender motors running.

11. Electric components:

The inverter is Delta brand of Taiwan. Low voltage appliance is Schneider of France.


Main parts of the machine
| | | |
| --- | --- | --- |
| Inverter:Delta of taiwan 4sets | Water squeezing roller: acid base resistant rubber roller two sets | Softener expression roller: acid base resistant rubber roller two sets |
| Gear box motor: 3kw 2sets | Gear box motor: 0.75kw 4sets | Gear box motor: 1.5kw 2sets |
| Infeed web belt: 3175mmx1640mm Du pont of USA 2pcs material is imported from Du pont and made in China | Bearing: made in China | Pneumatic components: shanghai of China |
| Rough belt: 40x2mm | Channel steel, corner steel: 10#, 5# Ji steel | Steel plate: thickness 10, 3 shanghai Bao steel. |
| Painting(machine skin coating): Tianjin of China | Digital temperature controller: Shanghai | Low voltage electric sets(like switch, indicator, relay): Schneider of France |
| Chains: Hangzhou of China | Triangle belt: Jinan of China | Thermal couple: shanghai of China |
Main Technical Specification
| | |
| --- | --- |
| Working width | 1400mm |
| Machine speed | 3-45m/min(Inverter control the motor, speed is adjustable) |
| Motor power | 11.45kw |
| Appliable compressed air pressure | 0.4-0.6Mpa |
| Machine figure(LXWXH) | 5100mm X 2750mm X 2820mm |
| Machine weight | 4.5T |
| Machine capacity | minimum 4.5 ton & Maximum 5.5 ton (Depending on Fabric GSM: 160, Fabric Width: 20inc |